Michigan Manufacturing to Resume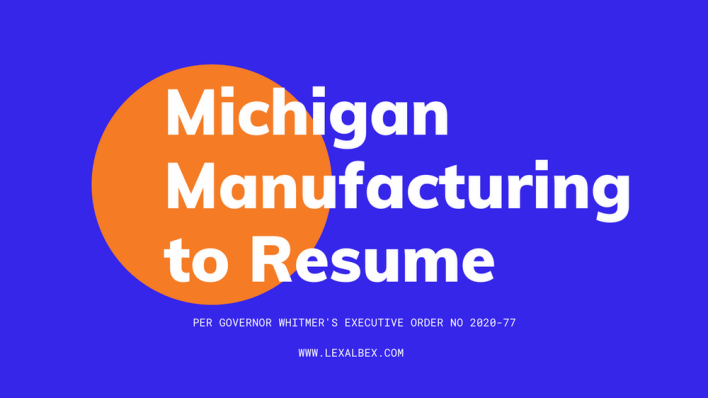 Governor Whitmer amended Executive Order No. 2020-70, issuing E.O. No. 2020 – 77, to allow another segment of economy to resume work beginning May 11, 2020: manufacturing work. To assist manufacturers with their decisions to reopen we have provided key points that manufacturers should know as they resume work.
The work will continue to be subject to "stringent precautionary measures." The work may not begin unless the facility has been prepared to follow workplace safeguards.
All other rules of restriction about social distancing are in place, they are to be adhered to. In addition, "any in person work necessary to conduct minimum basic operations must be performed consistently" with the rules. Sanctions could be the outcome where the designation authority is abused. Below are the conditions, requirements, and specific rules manufacturers need to know and implement in order to begin work.
In person operations may continue subject to these conditions:
1. Determine which workers are critical infrastructure workers or workers who perform resumed activities and inform them of that designation. This designation should be in writing. Workers need not carry these designations when they leave home or work.
2. In person activities unnecessary to sustain or protect life or to perform resumed activities must be suspended.
3. Enterprises must adopt social distancing practices and other measures to protect workers.
4. Businesses may sell goods remotely or at curbside, if a business performs resumed activities and does not sell supplies. It must, however, remain close to the public.
For activities related to manufacturing workers who perform these activities include:
1. Workers necessary to manufacture goods that support workplace modification to forestall the spread of Covid - 19
2. Workers to perform start up activities at manufacturing facilities, including activities to prepare the facilities to follow the workplace safeguards outlined below.
Minimum Requirement to Remain Open:
1. Develop a COVID - 19 preparedness and response plan consistent with OSHA guidelines. This must be available on site or at a business's headquarters.
2. Limit number of workers on premises to only what is necessary to perform work.
3. Remote work to be promoted
4. Workers who work on premises must be kept six feet apart to the maximum extent possible.
5. Mask to be worn and face-shields to be considered when workers cannot maintain three feet of separation.
6. Increase standard of cleaning and disinfecting facilities to limit exposure to the virus
7. Adopt policies to prevent workers from entering facilities if they display respiratory problems or have had contact with a person diagnosed with the virus.
8. Provide PPE
9. Limit interaction with clients and patrons
10. Prohibit gatherings of any size.
11. Adopt protocols to limit tool sharing and equipment to the maximum extent possible and disinfect frequently touched places.
As a manufacturing facility you must:
1. Conduct a daily entry screening protocol for workers, contractors, suppliers, and any other individuals entering facilities, including a questionnaire covering symptoms, and suspected or confirmed exposure to people with COVID -19, with temperature screening as soon as no - touch thermometers can be obtained. (HINT: find no - touch thermometers)
2. Create dedicated entry points at every facility for daily screening and ensure physical barriers are in place.
3. No tours, and suspend all non - essential in person visits
4. Train workers on the virus, its symptoms, how it spreads, rules they must follow, steps to take to notify businesses, about measures the business is taking to prevent exposure, how to property wear and take off PPE.
5. Create protocol to minimize physical contact after delivery of supplies in facilities.
6. Ensure sufficient hand - washing and sanitizing.
7. Encourage self - reporting to plant learners when possible symptoms develop
8. Stagger mealtime and start time.
Address your questions related to this information to aida@albexlaw.com . Attorney Dismondy may be reached also via Zoom or Skype.