Literally, a New Chapter for SMEs under USMCA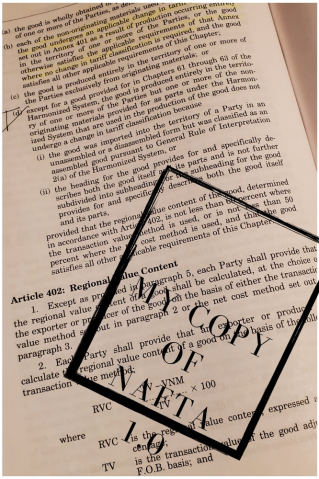 This week I finally set down to read chapters of USMCA that the Senate approved on January 16, 2020. It will take a while to read through it. Initially, the goal was to write about manufacturing. I changed my mind, however, when I came across the chapter on Small and Midsize Enterprises. It made me happy to see that for the first time the trade agreement includes a chapter dedicated to Small and Midsize Enterprises ("SME").
As an attorney supporting small businesses, I find this good news. The contribution of SMEs to our Nation's economy cannot be underestimated. More important these enterprises engage in export-import in numbers that cannot be overlooked. Statistically speaking, only in 2016 small and midsize businesses exported over $120 billion dollars in goods. Hence, it makes sense that the trade agreement would include a chapter to make it easier for SMEs to continue to trade and invest.
This article is a first in a series of articles that would highlight some of the key components of the Agreement to inform the SMEs on what to expect from the USMCA as they continue to do business across the borders with our neighbors in the north and south, Canada and Mexico respectively. Here, I've included highlights from the agreement – adopted from the Commerce's publication - relevant to SMEs as presented in the Chapter:
- Customs and Trade reduces the cost of doing business –
o Creates a new informal shipment levels of $2,500, so express shipments under that amount benefit from reduced paperwork.
o Raises the deminimis level for Canada for express shipments for the first time in decades, with up to C$40 exempt from duties and taxes (increased from C$20) and up to C$150 exempt from duties.
o Sets the deminimis level for Mexico up to US$50 exempt from duties and taxes, and raises it up to US$117 duty-free for express shipments.
· Promotes cooperation to increase growth in Trade and Investments –
o Information exchange, collaboration, and encouragement to cooperate between Parties, SMEs, and service providers are outlined as key increase trade and investment opportunities for SMEs.
· Ease of doing business via E-Commerce –
o Recognizing the economic reality created by the digital age, the Digital Chapter creates a cost reduction platform:
§ It prohibits customs duties on digital products distributed electronically (e-books, videos, music, software, games, etc.).
§ It protects cross-border data flows and limits data localization requirements.
§ It limits Parties' ability to require disclosure of proprietary source code and algorithms.
· Committee to focus on SME issues and SME Dialogue –
o This committee, once formed, will function as a hub not only for information sharing and exchange of ideas but also to "develop and promote seminars, workshops, webinars, or other activities to inform SMEs of the benefits available to them under" the USMCA. The committee will work to convene a SME Dialogue where various representative stakeholders, including under-represented groups, would participate.
· Intellectual Property Protection –
o The chapter provides for stronger protection of IP rights. Cutting red tape to obtain protection, streamlining application procedures, and making public information related to IP would cut not only transactional cost for SMEs, but it will also facilitate market entry.
· Government Procurement –
o The chapter provides specific support for US and Mexican SMEs to participate in procurement opportunities; focus on accessibility of procurement notices via an electronic portal; development of policies to support SME participation in procurement; and maintaining NAFTA's exclusions for both Mexico and U.S, and U.S. exclusion for small business set aside
· Good Regulatory Regimes –
o This chapter is new and concentrates on the promotion of good governance, transparency and accountability and development of compatible regulatory approaches that reduce burdensome regulatory requirement and encourages Parties to consider the impact of regulatory developments to SMEs.
These measures will take time to implement, though a good start. Lastly, while the chapter outlines what SMEs can expect under the Agreement, SMEs should be mindful that they aren't excluded from the other rules outlined in the Agreement.
Stay tuned for the next article in the series where I'll cover the rules of origin and how it effects small business manufactures.
Your opinion matters. What do you think about these key developments? What are your concerns? Comments can be sent to aida@albexlaw.com or via Skype at aida.dismondy .
A friendly reminder: the information is intended to educate, always seek advice of counsel for questions related to your specific situation.
#usmca #smallbusiness #export #import #businessowner