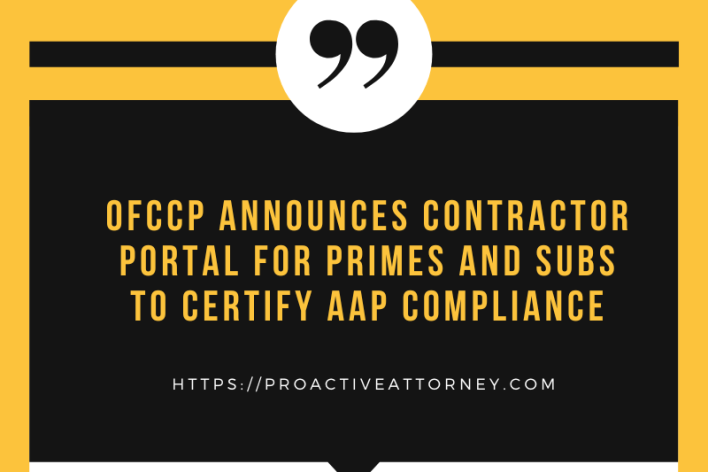 Do you offer supply and services to the U.S. Government? If yes, read on.
Last week the Office of Federal Contractor Compliance Programs announced the launch of a new Contractor Portal and the opening of its Affirmative Action Program Verification Interface. Beginning next year, covered contractors - contractors and subcontractors - must register on the portal and will have to submit a formal certification on the Portal. Based on the timeline shown, contractors have about seven months to prepare their certificates. Here are three milestone dates to know:
February 1, 2022 – expected opening date of the portal for registration
March 31, 2022 – certification features will be available
June 30, 2022 – all contractors and subcontractors must certify compliance with AAP requirements
Initially, the OFFCP is requiring annual certificates for supply and service contractors only. Under Executive Order 11246 and Section 503 of the Rehabilitation Act of 1973, supply and service contractors with contracts of $50,000 or more and 50 employees or more must develop and maintain an AAP. Under Vietnam Era Veteran's Readjustment Assistance Act of 1974, supply and service contractors with a contract of $150,000 or more and with at least 50 employees must develop and maintain an AAP.
Primes and subs must develop and maintain AAP within 120 days of obtaining a contract and update them annually. Contractors would use SAM to confirm the existence of an AAP, but the subcontractors do not have to register with SAM. Now, the requirement to provide a written certification raises the bar for compliance for both contractors and subcontractors. The OFCCP will not have only access to who is compliant and who's not, it will also cross check between systems for inconsistencies, which could bring about potential penalties under the theory of false claims to the government.
Therefore, federal contractors and subcontractors should pay close attention not only to the new AAP reporting requirements, but also use this time of seven months to get the house in order, conduct the annual audit, make sure their reporting matches across platforms, and, last, primes check with your subcontractors to make sure they are complying with the requirements.
Attorney Aida Dismondy writes about international trade and government contracts. She advises clients on international trade, international business, export controls, trade policy, geopolitics, government contract issues, and anti-corruption. She has also experience handling government investigations. Aida can be reached at aida@proactiveattorney.com or at 734 - 746 - 5006.